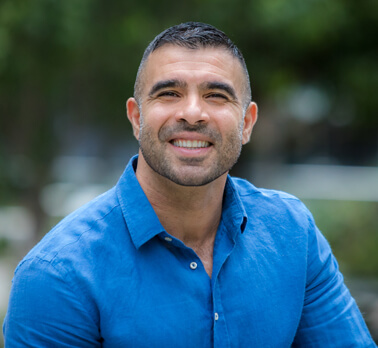 Integrating contemporary medical knowledge with evidence-based herbalism
Ghaith is a qualified Physician, Clinician, Integrative Herbalist, Researcher and Educator.
"Understanding the cause of the illness or the ability to stop or reverse the conditions in their earlier stages gives me the drive to keep practicing and researching in this field of integrative herbal medicine."
He has sixteen years experience as a health practitioner, working as a physician and obstetrician with a strong focus on fertility.  His interest in a gentler approach to medicine and functional disorders developed over this time and saw him integrating current evidence of herbal therapeutics with contemporary medicine.
His interests are focussed on evidence-based practice dedicated in men and women's health; immunity and autoimmune disorders; metabolic and endocrine disorders. Patients with multiple conditions are of particular interest to him, and neurological disorders are something he is researching and publishing on currently through his PhD.
Ghaith can help if you have:
An immune disturbance and autoimmune disorder
 Inflammatory and degenerative joints disorders
 Metabolic syndrome, pre-diabetes and insulin resistance
Men's and women's health and fertility issues, including preparing to expand your family and unexplained infertility (subfertility)
Endocrine disturbance
Neurodegenerative and neuro-inflammatory disorders (the area of my current research)
Chronic infections support including HIV affected individuals
Qualifications:
PhD (candidate) – Neuroscience/Herbal Medicine, University of Technology Sydney
Master in Health Science (Western Herbal Medicine), University of New England
Master in Medicine (Reproductive Health and Human Genetics), Sydney University
Bachelor of Medicine and Bachelor of Surgery, University of Baghdad, Iraq