Anna M Guz is a qualified Clinical Naturopath, Nutritionist, Medical Herbalist and Health & Wellness Coach.
With more than 12 years experience in clinical practice, Anna's main interest lies in Gut and Mood/Mental Health, Women's and Men's Health and Wellbeing.
Her dedication to developing clinical practice and constant hunger for further education and research in functional medicine has led her to supporting many people during their healing journeys.
Anna's interest in nutrition and herbal medicine started whilst still in high school.
Her passion encouraged her to do a science degree in Chemistry and Physics and then complete a Master's Degree in Food Technology and Human Nutrition. While completing her Master's Degree, she lived and worked on an organic farm in Switzerland.
After moving to Sydney, she completed a Bachelor of Naturopathy to further develop her interest and knowledge in natural medicine.
She stays up to date with recent research in functional medicine by doing extensive reading, attending webinars, seminars, broadcasts and conferences on natural and functional medicine. She strongly believes in ethical practice and the power within.
With degrees in both Science and Natural Medicine, her approach to each patient's treatment plan draws from her skills, education and work/life experience allowing and helping to find a way through to the best solutions for the patient's specific health and life issue.
She is the Founder of The Well Man – a mens online support group dedicated to health education, support, and empowerment so they can live healthy, happy, wise, connected and loved long lives.
Qualifications
Master of Science (Food Technology and Nutrition)
Bachelor of Naturopathy
Bachelor of Science (Chemistry and Physics)
Certificate in Holistic Approach to Sexual Health (A5M)
Certificate of Iridology
Wellness Leadership Academy Global Master Program
Certificate IV in New Small Business 2016
Certificate in Functional Psychiatry Metagenics 2016
Certificate in Holistic Approach to Sexual Health (A5M) 2015
Certificate in Natural Mental Health Masterclass Health Masters LIVE 2014
Certificate in The Integrative Psychiatry Health Masters LIVE 2014
Certificate in Advances in Mental Health: How the Brain Causes Hormonal Havoc March/April 2013
Special Interests
Women's health
Men's wellness and emotional wellbeing
Low libido and sexual health
Mental health: mood swings, stress, irritability, anxiety, depression, bipolar, adrenal exhaustion, insomnia
Digestive health and gut health recharge programs
Detoxification program
Health education and dietary/nutritional assessment
Optimising health and wellbeing
General naturopathic health care for the whole family
Cooling the Flames Program
Gut mood health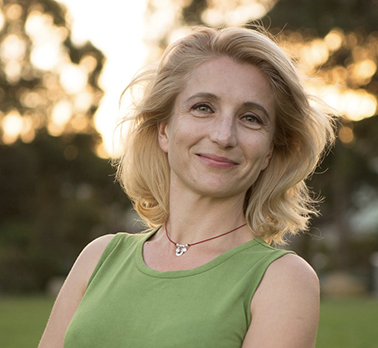 For appointments:
For all appointments please contact Anna.
Ph: 0404972977
email: anna@annaguz.com